Stephen Malkmus and the Jicks
Real Emotional Trash
Rating: 7.2/10
Tracks: 3, 4, 5
RIYL: Pavement, Wilco, Obsession…
I've been in love with Stephen Malkmus for a long time now. Years. As you can see by the picture, I'm pretty sure he loves me too. I never get paid without hearing "wee've got the money! we've got moneyy!!! we've got the moneeeyyy yyyyeeaaaaaahhhhhhhhh!" play softly in the background…of my serpentine pad. It IS a shame you never had anything to mix with that, and I–too–would like to live a range life when my Walkman fades. Because I'm empty, and you're empty. But is this enough to like his new album? In one word: yes.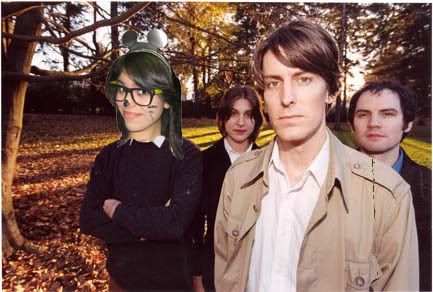 Yeah, you can be impressed. This is me with Stephen Malkmus.
If you're an undying (or undead) Pavement fan, I strongly recommend for you to give this a chance…because honestly, this one didn't fall too far from the Crooked, Slanted, Wowee-Tree. This album likes to jam, this album likes to look at Malkmus' face and drool. It's very self-indulgent…but then again, if you were Stephen Malkmus, wouldn't you be self-indulgent too? I'm sure the guy is a jerk, but he's made my teenage angst livable. And I don't even have any teenage angst! I'm not even a teenager! And it's not the nineties anymore! But doesn't that give him that much more credit?
Some songs on this are true duds, but the singles are really listenable. They're quality. I'm slightly disappointed that they sound so much like a one-off of what he was writing way back when, but I think I would be more disappointed if they weren't. I've come to expect either the long languid solo works, or the jam jammy Jicks. And honestly, this is the jammiest so far, excluding perhaps the debut.
If you're not a Pavement fan, I don't even know how you like music. So go and listen to some Killers, son. But if you are, check out the title track, Cold Son and Out of Reaches. You won't be disappointed.
I should stop now, before this sounds even more fan-fiction-esque.
– Natalia Zuniga